The Cincinnati Table Tennis Club
College Hill Recreation Center
5545 Belmont Ave, Cincinnati, OH 45224
Important: The Cincinnati Table Tennis Club is currently open on Tuesdays and Thursdays only, from 6:00PM – 7:45PM, due to the coronavirus. We will update the website whenever the hours change.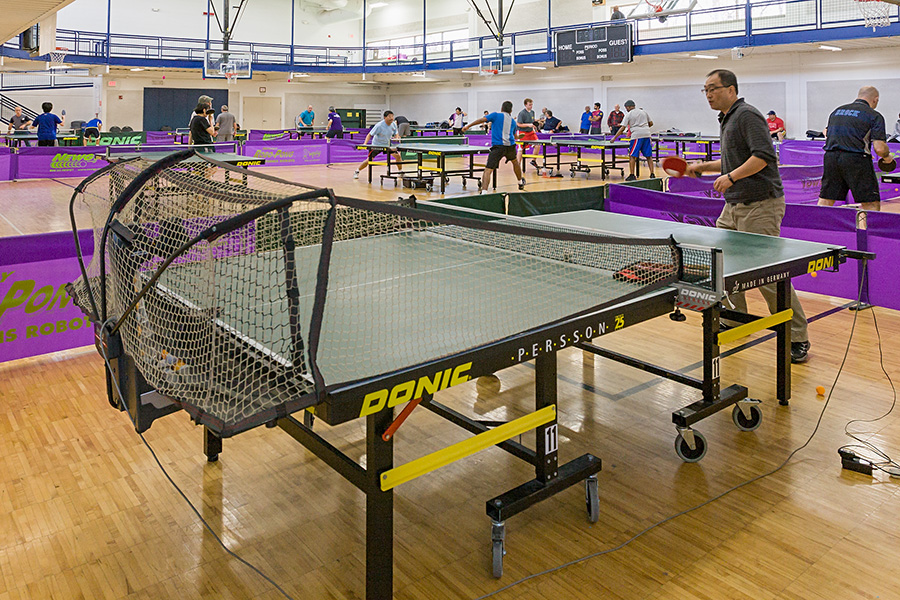 For over 40 years the Cincinnati Table Tennis Club (CTTC) has encouraged players of all ages and skill levels to enjoy table tennis. CTTC is affiliated with USA Table Tennis (USATT), the national organization that promotes this sport, sanctions tournaments, and sends elite athletes to the Olympics. CTTC attracts top players from the Greater Cincinnati area and has welcomed participants from over 45 countries throughout the world. Although competition can be rather intimidating among top players, a broad range of expertise can be found across the club's eleven tables. With a bit of patience new players generally find partners who play at their level. Winning matters quite a lot at CTTC, yet this interaction also forms lasting friendships. Many members have played at CTTC for decades.
CTTC is a nonprofit corporation. There is no membership fee to join CTTC, but playing fees are collected in order to pay rent, maintain equipment, and cover related expenses. CTTC does not offer any formal coaching, but players receive plenty of advice from advanced club members once they have demonstrated their commitment to the sport.
CTTC occasionally hosts USATT sanctioned tournaments, some at the prestigious 4 star level. These events enable CTTC players to test their skills against players with unfamiliar playing styles. Some avid CTTC players participate at the USATT US Open every December in Las Vegas.
Playing Schedule and Fees
Here is the scheduled weekly USATT table tennis lineup for Cincinnati:
Day
Hours
Location
Playing Fee
Tuesday
6:00PM to 7:45PM
College Hill
$5 Per Night 1
Thursday
6:00PM to 7:45PM
College Hill
$5 Per Night 1
Friday
5:30PM to 8:30PM
Blue Ash
Closed due to COVID 2
Saturday
9AM to 1PM
College Hill
Closed due to COVID 3
Sunday
12:30PM to 3:30PM
Blue Ash
Closed due to COVID 2
Refer to the Calendar webpage for the current playing schedule.
1 Fee is currently waived due to reduced CTTC hours
2 The Blue Ash Recreation Center is typically closed to nonresidents, but the Northern Cincinnati Ping Pong Club has received special permission for their events. Please tell the staff at the reception desk that you intend to play table tennis when you arrive.
3 Any person may obtain a Cincinnati Recreation Commission (CRC) membership. Contact the CRC staff at the reception desk to purchase a pass. The annual rate is $2 for children and youth, $25 for ages 18 to 49 years, and $10 for older adults.
CTTC matches are played in accordance with USATT rules, as summarized in the CTTC Rules on this website. The sport transitioned from the traditional celluloid ball to a poly ball material in 2014. The vast majority of CTTC players use these 3 star balls, Nittaku Premium 40+ made in Japan or Xushaofa Premium 40+. Nearly all CTTC participants purchase their equipment online because no local stores sell competition level table tennis gear.
The best equipment advice for those coming to CTTC for the first time is to bring your own bat. There are literally thousands of products sold, so it is virtually impossible to make an informed selection. It would therefore be much better to begin with a familiar bat. The club also offers a broad selection of in-house bats that players are welcome to use. This also helps players learn which type of bat best matches their playing style.
The College Hill Recreation Center provides superb playing conditions:
Eleven professional tables, Donic Persson 25
Eight large barriered courts – Wooden floors – High ceilings
Three barriered practice courts, including a Newgy 2050 robot
Brilliant lighting, sufficient to host 4 star USATT tournaments
Year round climate control along with free parking nearby.
Playing on weekends offers the best value. This would also be an ideal time to learn this sport because competition tends to be more intense during the week. It is now possible to play at a USATT club in Cincinnati nearly every day of the week thanks to the Northern Cincinnati Ping Pong Club (NCPPC). The Blue Ash Recreation Center hosts the NCPPC at 4433 Cooper Road, Blue Ash, OH 45242.